It is time to start thinking about our next project for Spring / Easter, and then the upcoming Coronation. Hopefully people will want to get involved in crocheting or knitting for these themes. The Duck Race / Spring & Easter / Flower Cascade. We are aiming to get this tree up in mid March.
The Duck Race. For this we need ~250 plain blue squares. As previously knit or crochet, in acrylic double knitting, 19cm squares. Any shades of blue, but please, just blue. As a guide I have done either 9 or 10 rounds of a standard granny square on a 4mm hook with double knitting to get this size (it has varied with different yarn). I have also tried a wavy water pattern, so feel free to experiment to make the 19cm squares.
We also need applique style ducks in yellow to look like the ducks in the annual Easter Monday duck race. I have made up the ducks below and am thinking about trying to write out a pattern…. they are 15cm beak to tail. If you find a suitable pattern please share a link. I think these are Super Duck size, so we may want more smaller ones! We want separate squares and ducks please so we can arrange the ducks to look like the race!
Duck pattern – just do in yellow. (pattern You tube – https://youtu.be/X33SMDtRL_c)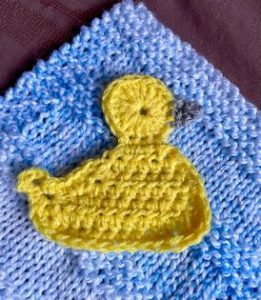 3D Ducks – patterns can be found here. Don't need many of these, this is a later idea and will be strung around the base of one of the hoops. Patterns | The Little Yellow Duck Project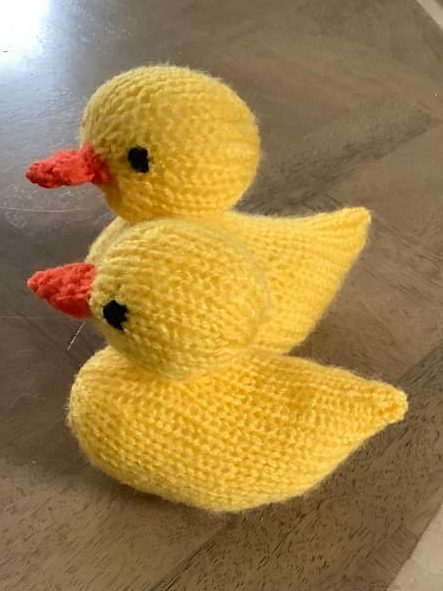 2. Spring. Think general spring colours, light greens and yellows. We need around 200 spring green squares (same size as above), and then yellow / pink flowers, applique bunnies and chicks / eggs. EDIT to add that if you want to make a square with a spring/Easter motif within it that is fine. I just started thinking how many appliques we could have to sew on!! Happy to have both though 
Some suggested pattern links:
Free Pattern: Crochet Bunny Appliqué – Bella Coco Crochet
The Crochet Blog Baby Bunny Applique FREE Crochet Pattern
3. Flower cascade. This will be the top part of the 'tree'. We want as many bright colourful flowers as you can make. Some suggested pattern links:
5 FREE Crochet Plant Patterns – Bella Coco Crochet
Crochet Daisy | FREE Crochet Flower Pattern – Bella Coco Crochet
Crochet Flowers – Bella Coco Crochet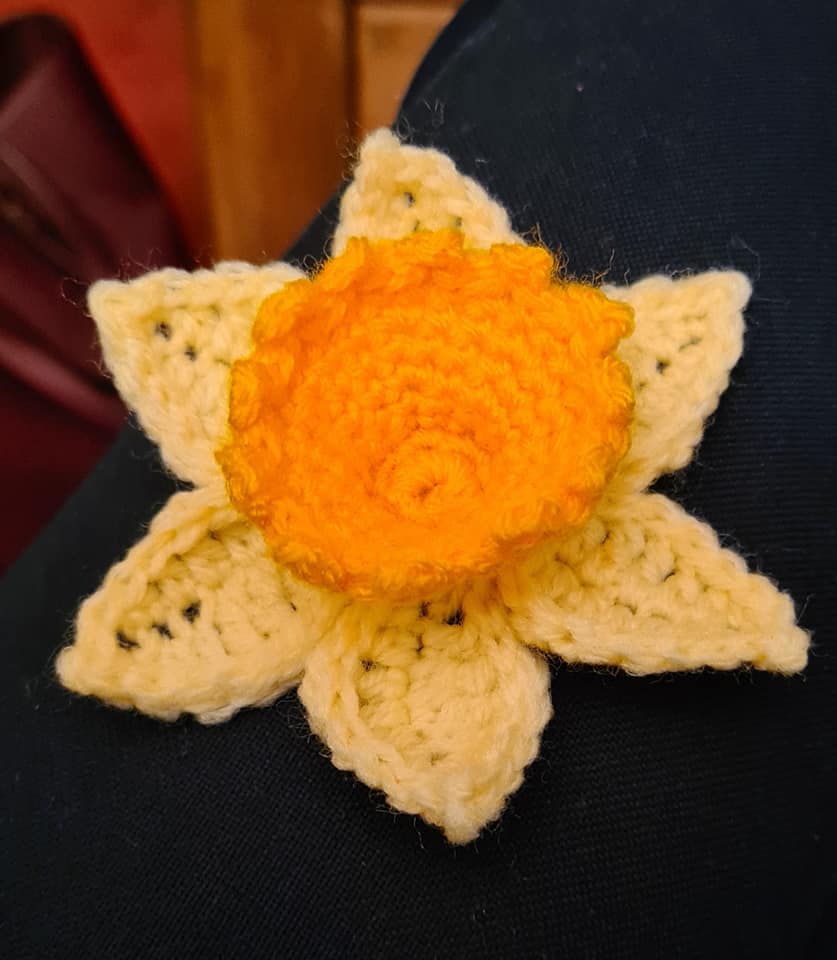 Pattern – Spring Daffodils | HappyBerry
4. Coronation. This is for a bit later on, but we would like 10cm squares for this (around 5 rounds of granny square). 112 red, 96 royal blue, 128 white. This is just for starters for the Coronation, there could well be more! Keep watching this space. EDIT to add to complete the layer on the tree we will be after the usual 19cm squares in Purple and Gold. Plus some crowns – pattern to follow.
We will need to reconfirm drop off points, so get started, and we will let you know where to drop them off soon. Feel free to show us your progress and share any good patterns you find (as allowed by copyright).
We may ask you to crochet or sew some together this time once we have thought about how best to join them this time – it was a huge job last time!
EDIT to add that we love ALL your contributions, but to ensure everyone gets to see their bit, could we ask that you please limit yourselves to 10 of any squares/ducks/etc for each section. If needed we will ask for more later.
Thanks everyone!