Saturday 3rd December 2022
So the big day finally here. 8am the van loaded up and the checklist checked!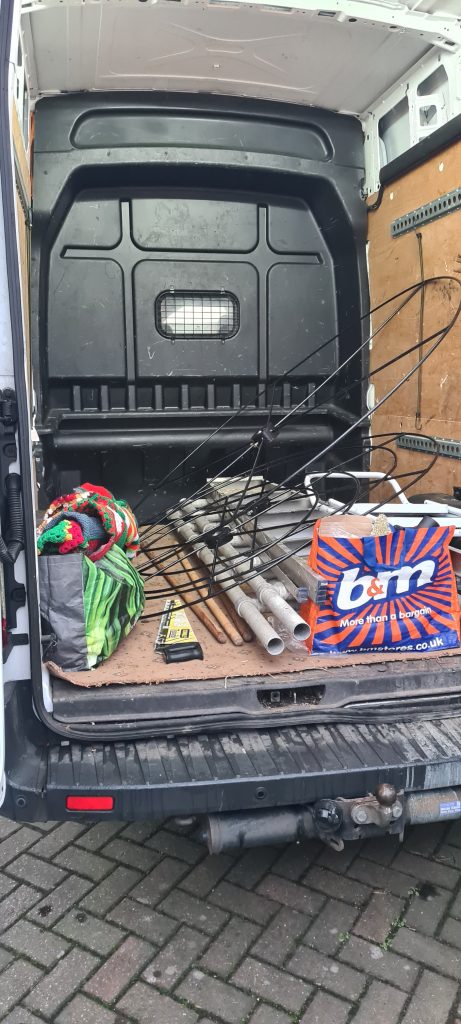 First task on site was to cut back some of the large overhanging branches which were quite high up. We put up the scaffold platform for this.
To construct the top cone we rested the scaffold pole on part of the platform and put the top 2 hoops on. The top hoop having the lights attached to it. A lesson learnt for next time to note which way the lights are facing! Leaving space for the star on the top, then measuring 1.5m down for the second hoop. Bolts greased and secured we then fastened the wire between them to support the yarn. This was a little bit harder than planned as each wire needed to be attached separately as we couldn't pass the roll through the top hoop.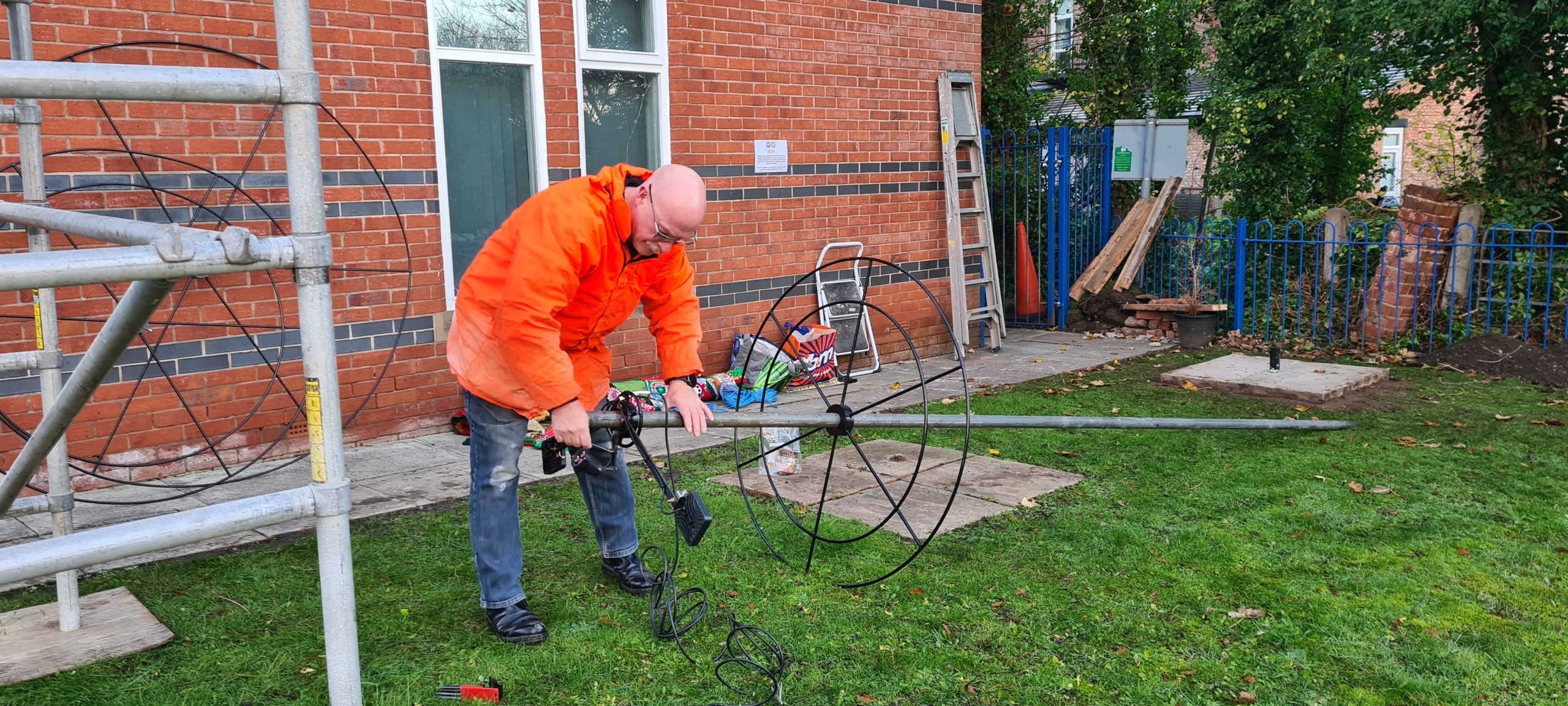 Time to attach first yarn cone 🙂
Joined the yarn cone to the top hoop with wire first, then aligning to the bottom hoop and joining up the edge. At this point I realised I had positioned it wrong, and the join would be at the front, but we decided it would still be okay. Too difficult to undo it and reattach at this point.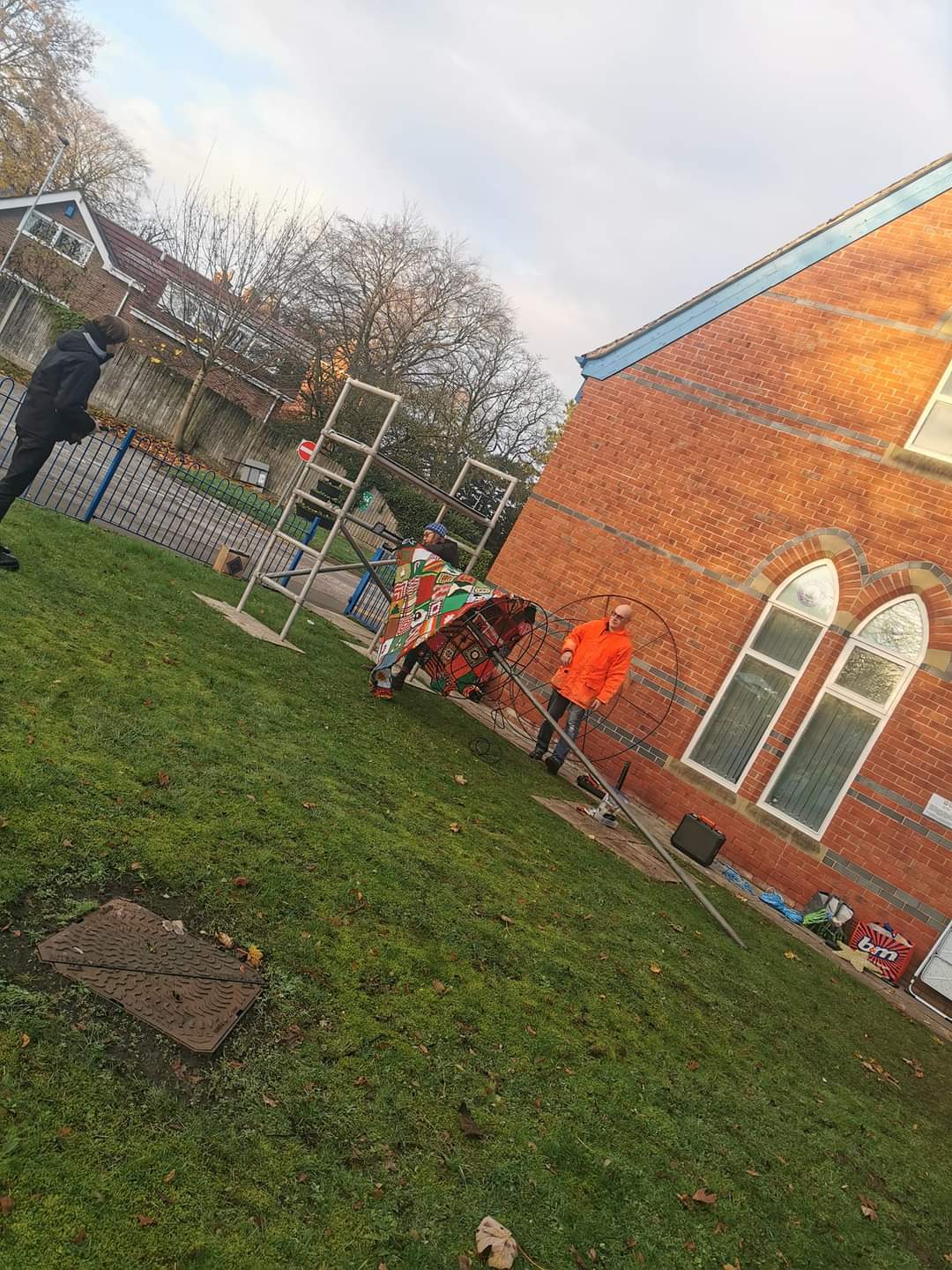 This was the cone that had been drawn slightly wrong, so did need a bit of stretching to fit.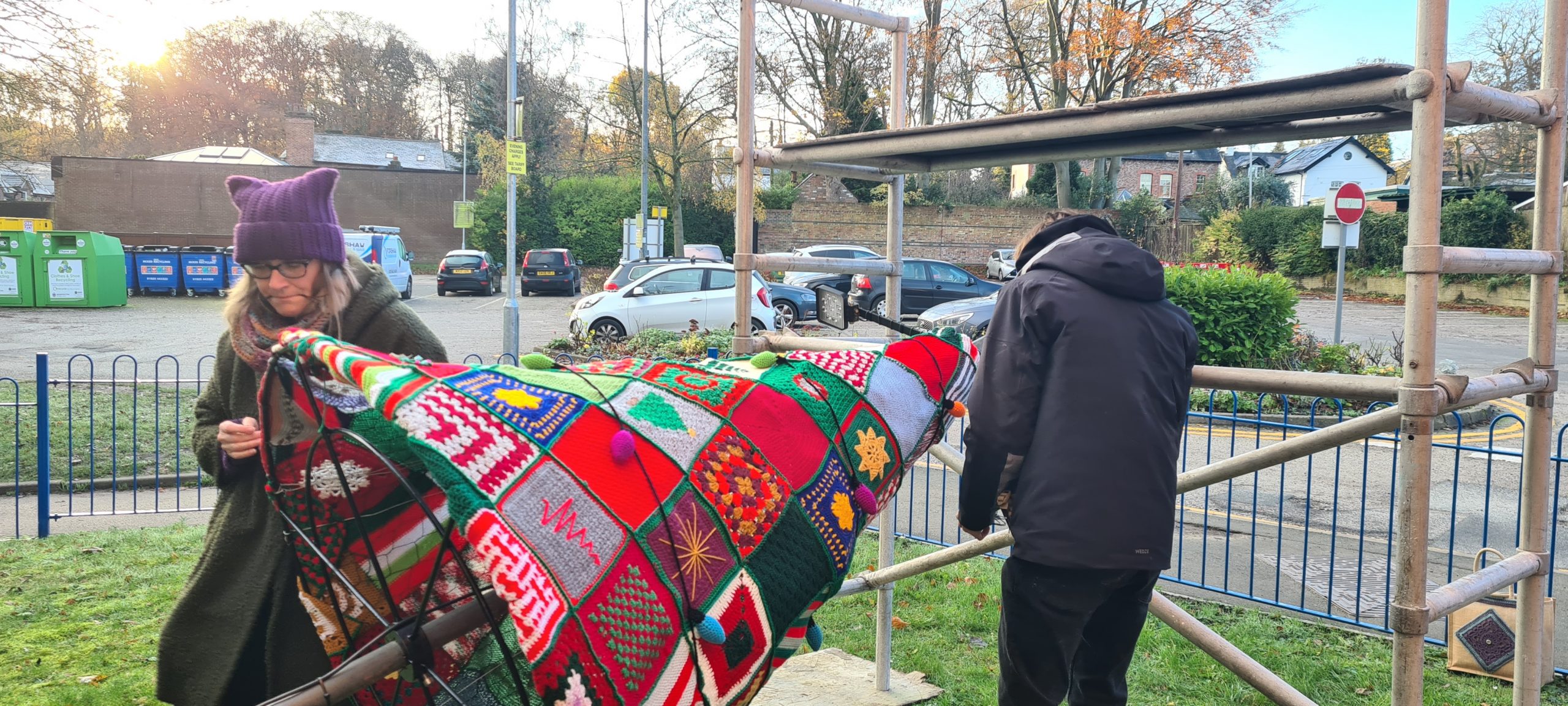 And then the first string of lights was also fixed using wire, also attaching the crochet cone to the wire structure underneath. Then fixing the star in place!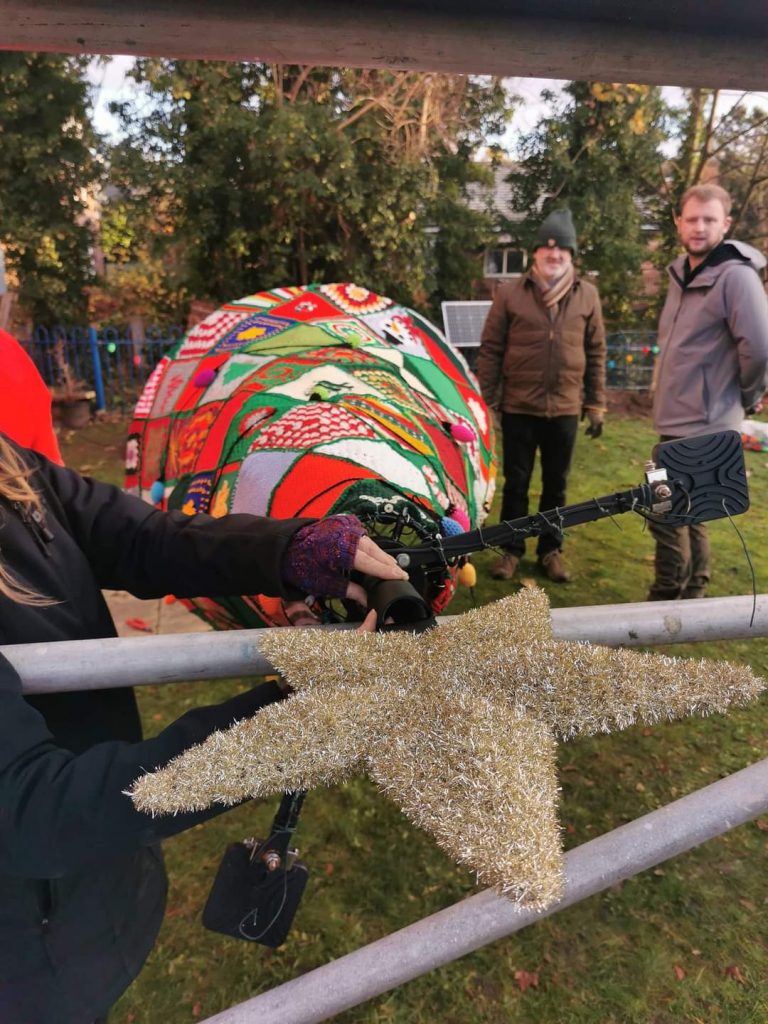 Notice also the detail – wires wrapped around the arms for the lights to stop birds sitting there and pooping down the tree!!!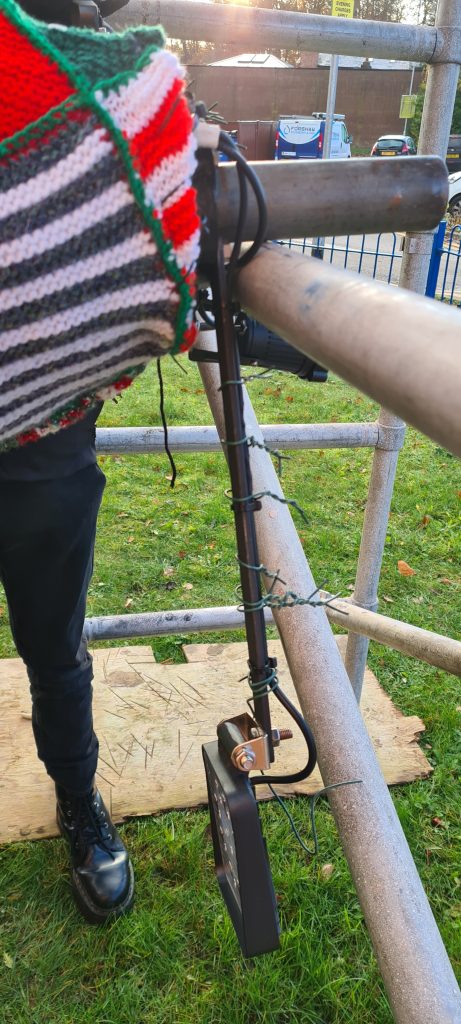 Time to attach the third hoop, position the fourth hoop on the ground, and get the pole and first cone up into place.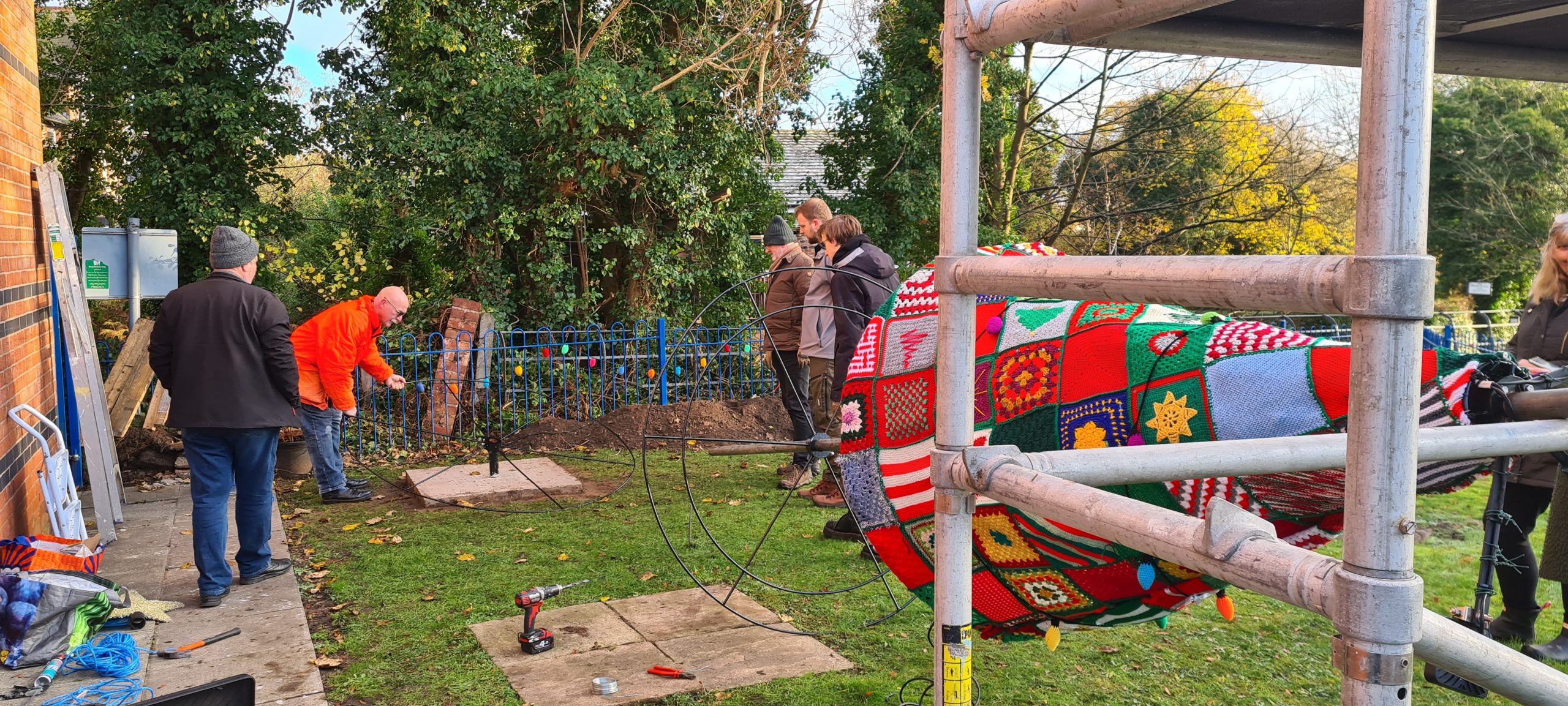 The relief at this point was amazing!!
While I had been attaching the first yarn cone to the hoops, Paul had also fixed the solar panel to the fence.
Second cone worked well. We 'unfixed' the scaffold pole at the bottom to allow us to spin the structure to attach the wire and the yarn cone, so we didn't have to move the scaffold platform. We attached at the top first, then secured neatly at the bottom. Joined (at the back) and then attached the crocheted lights. Then guy ropes were affixed inside the structure.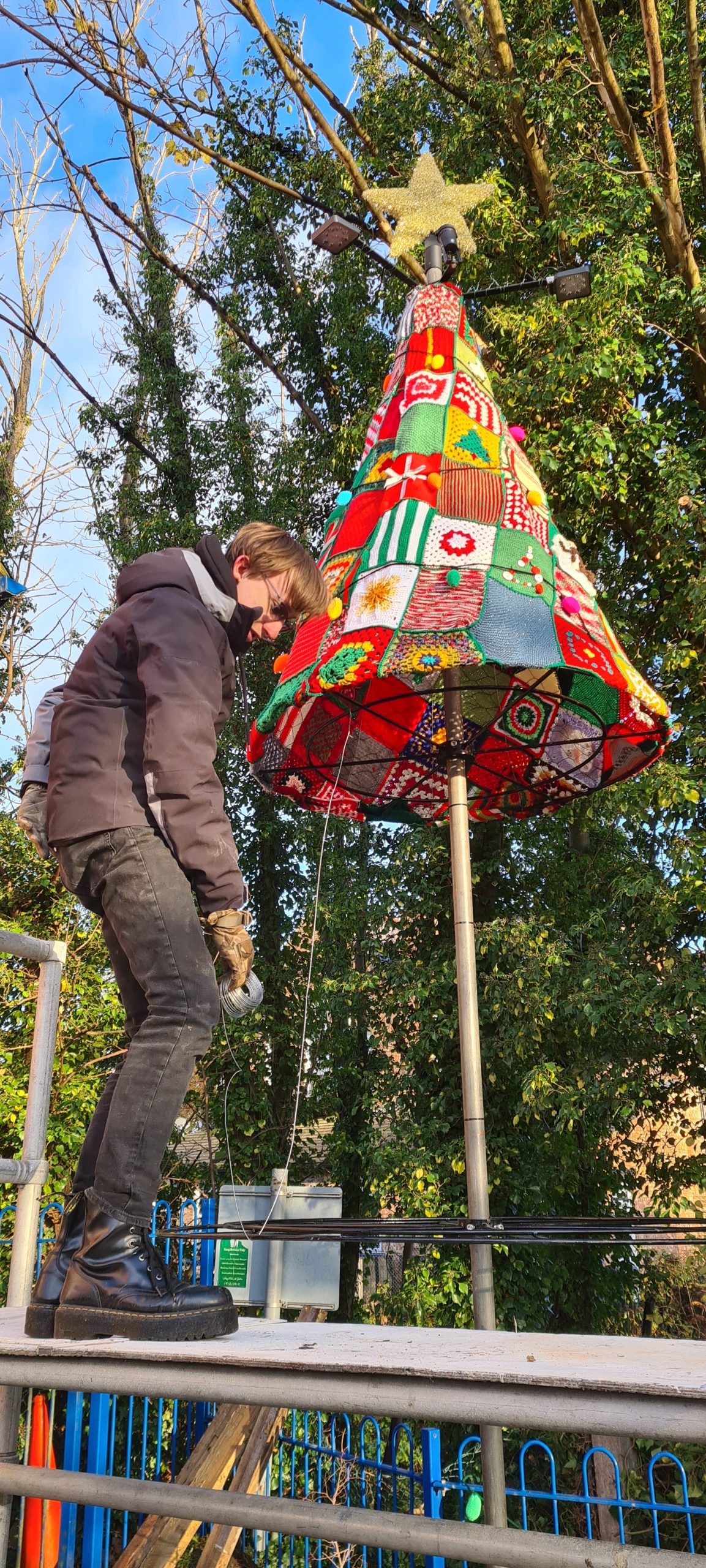 Thanks to Sanctuary Cafe for providing teas/coffees AND breakfast barms, which kept us going!
Third section – we are getting the hang of this now!
And done by 12.30pm!